FUNFAM SPORTFEST 2022 @ SINGAPORE SPORTS HUB
17 DEC, SAT,
8.30AM - 6PM
This December holidays, we planned a series of parent-child sporty activities lined up for your family! Bond with your children and sweat it out with activities such as My 1st Coach, Dance Fitness Party and Learn-to-Play Tennis and Volleyball. What's more, look forward to a variety of sport tryouts by our coaches from ActiveSG Academies and Clubs, inflatable games and other fun activities that the little kiddos will definitely enjoy!
Specially for this SportFest, we are giving away Decathlon gift cards to the first 600 families to register their attendance!
This SportFest is FREE and open to all ages*. We promise you an unforgettable sporting experience as you create your very own special moments as a family with us.
*Fees apply for selected programmes, for parents and children 5 - 12 years old.
🚨Please note the conditions of entry to the event.
Find out more about our programmes below!
---
GIVEAWAY! Register to collect your Decathlon Gift Card worth $10!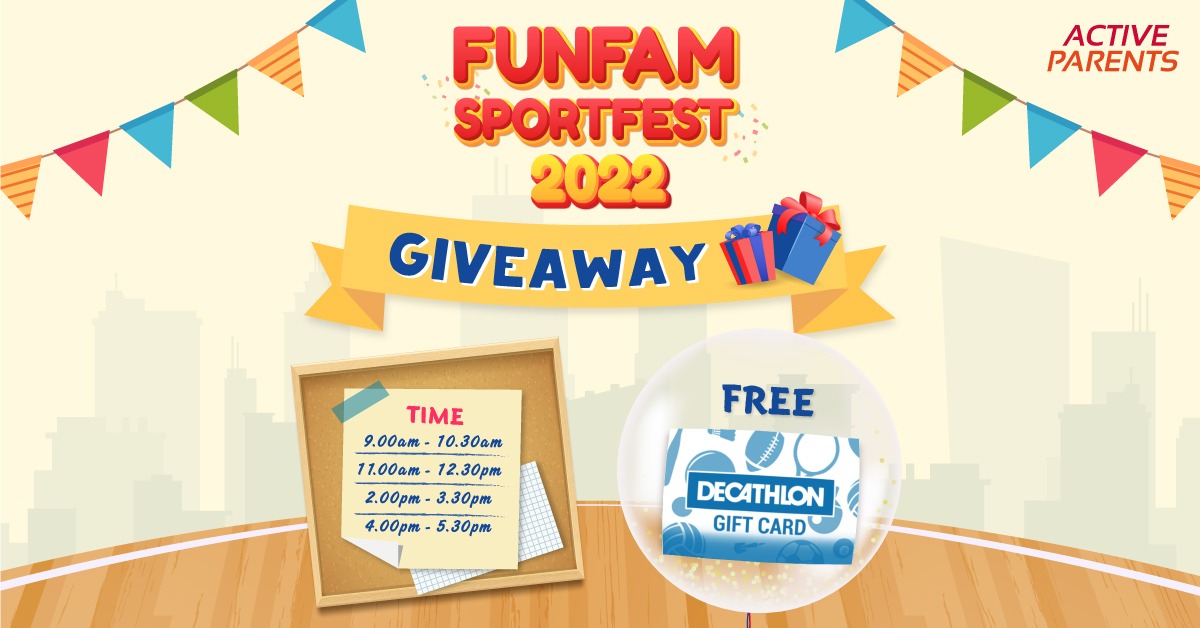 The gifting season is approaching and Active Parents is here to spread some holiday cheer with our giveaway! Simply register to attend our FunFam SportFest at your preferred timeslot and walk away with a $10 Decathlon gift card for your family*!
*First-come, first-served, this giveaway is limited to the first 150 registered families per timeslot.
Simply follow the instructions below:
1) Register your interest to attend FunFam SportFest at the respective timeslot below:
🌥️ 4pm to 5.30pm (FULL!)
2) Successful registrants will receive a confirmation email with redemption details.
3) Head down to FunFam SportFest on 17 Dec, at your respective timeslot to redeem your Decathlon gift card.
Note:
👆 Each family may register for this giveaway once.
⏳ Gift card redemption is only available during your respective timeslot, on the event day.
📥 Registrants are to present the confirmation email (digital copy) upon redemption.
---
PARENT-CHILD FUNTIVITIES
Suitable for children aged 5 to 12 years. These 60-min programmes are designed for parent-child pairs to participate together. Pre-registration is required; participants will receive a gift from Active Parents on event day.
1. MY 1ST COACH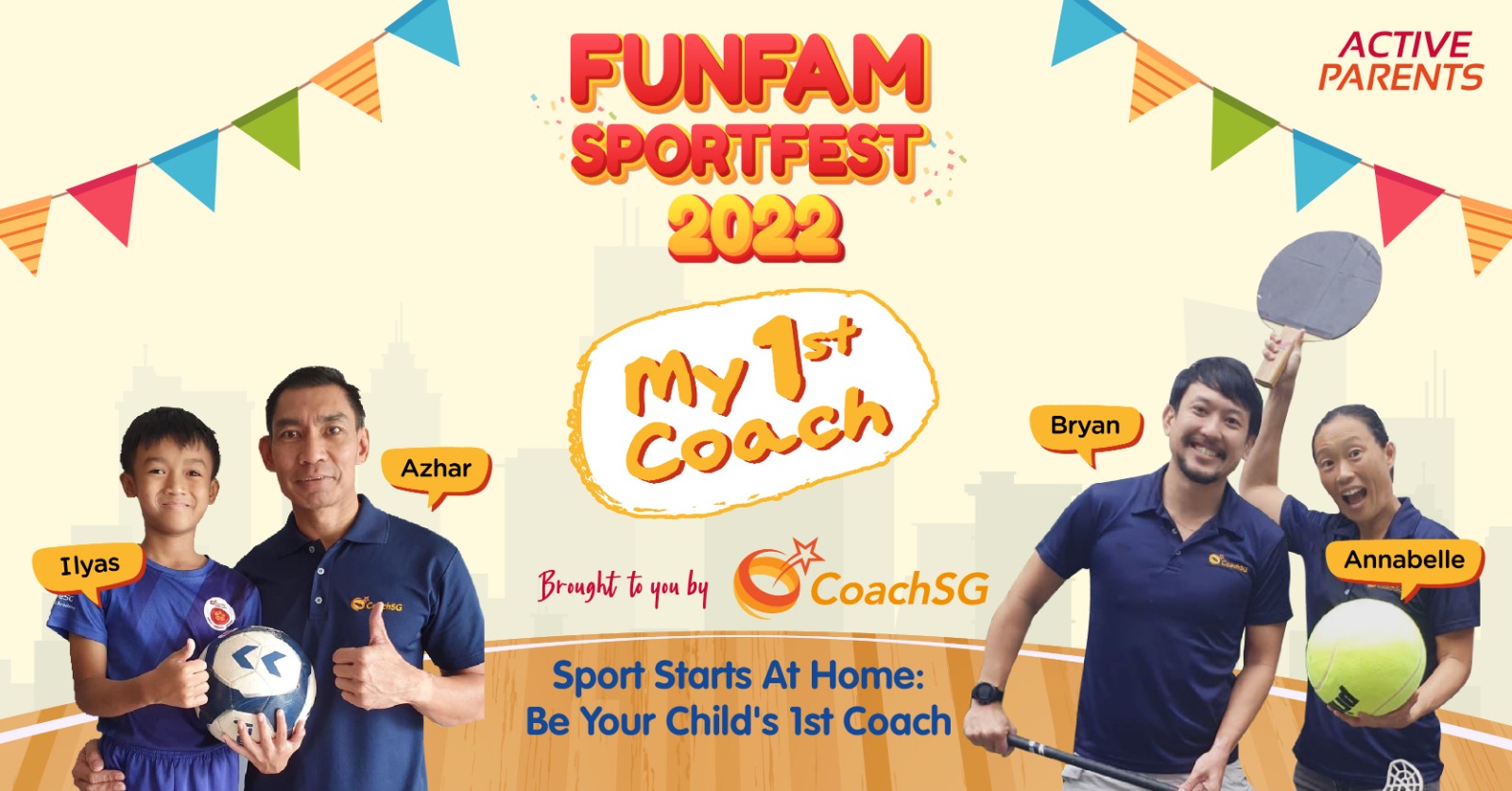 We believe that sport starts at home, and you are your child's first coach.
Brought to you by CoachSG, this signature programme will open your eyes to how you can create fun and exciting games using basic movement skills right at home.
Ready to put you and your child's creativity and problem-solving skills to the test in the series of games and challenges? Come join us in an action-packed 60-minute session where you will discover, explore and experiment with different fundamental movement skills with your child!
PS. We heard there are prizes up for grabs!
2. DANCE FITNESS PARTY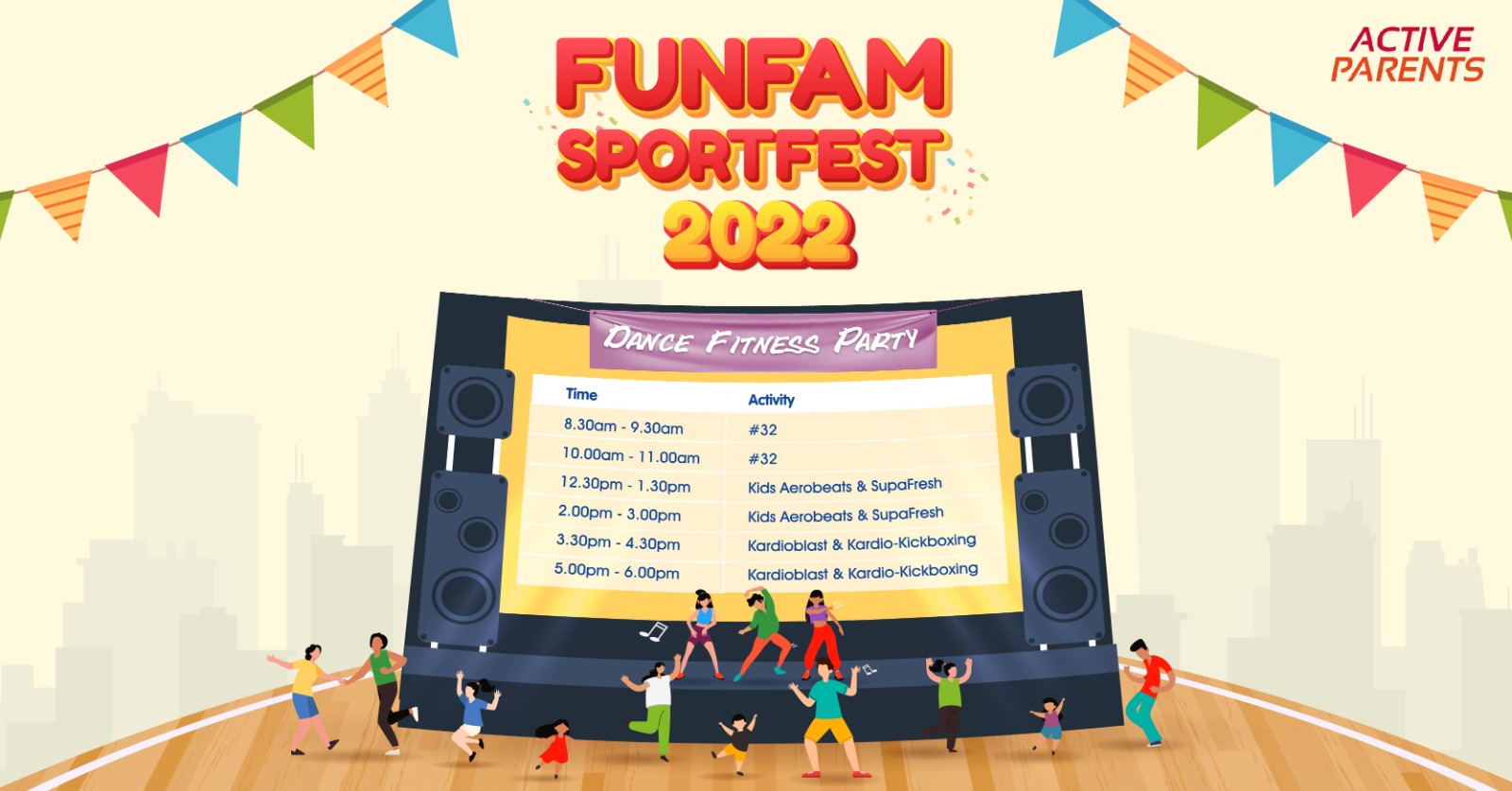 *Head over to the ActiveSG Programme Listing page to check out the session timeslots.
You may have heard of dance fitness workouts; but are you familiar with #32, Kids Aerobeats & SupaFresh and Kardioblast & Kardio-Kickboxing?
Catch the beat and dance to pop hits with your child right at our sportfest! Fret not, the easy-to-follow routines are suitable for participants of all ages and fitness level. Groove with your little one and show us your best moves. Be prepared to break a sweat, no less!
🎉 #32

is a workout comprising

freestyle dance fitness moves

with non-stop pulsating music from various genres and rhythms. Add in your own flavour, attitude and style to express yourself during the showtime segment. 💡
Pro tip: Join this party if you're one with the moves - even if you're not, this could be the happiest 60min you would clock with your kid at the sportfest!
🎉 Kids Aerobeats is a fun rhythmic aerobics workout that is not just for kids, but for adults too! It involves the use of numerous muscle groups, making it fun and exciting for all. Alongside, we have SupaFresh, an energetic, engaging and fun street dance style with HIIT that allows you to show off your cool moves and groove to the high energy music. 💡Pro tip: Join this workout to improve your stamina while having fun!
🎉 Kardioblast is a great aerobic workout with low impact moves that promotes muscle conditioning, improving your little one's flexibility, stability and balance. Inclusive of Kardio-Kickboxing, a martial-arts inspired workout that incorporates kicks, jabs and hooks. Attempt to dance in sync to the upbeat music with your little one! 💡Pro tip: Join this workout if you are the ultimate cardio fan!

Get your tickets now and let's get the party started. This is where the maximum fun will be!
3. LEARN-TO-PLAY TENNIS AND VOLLEYBALL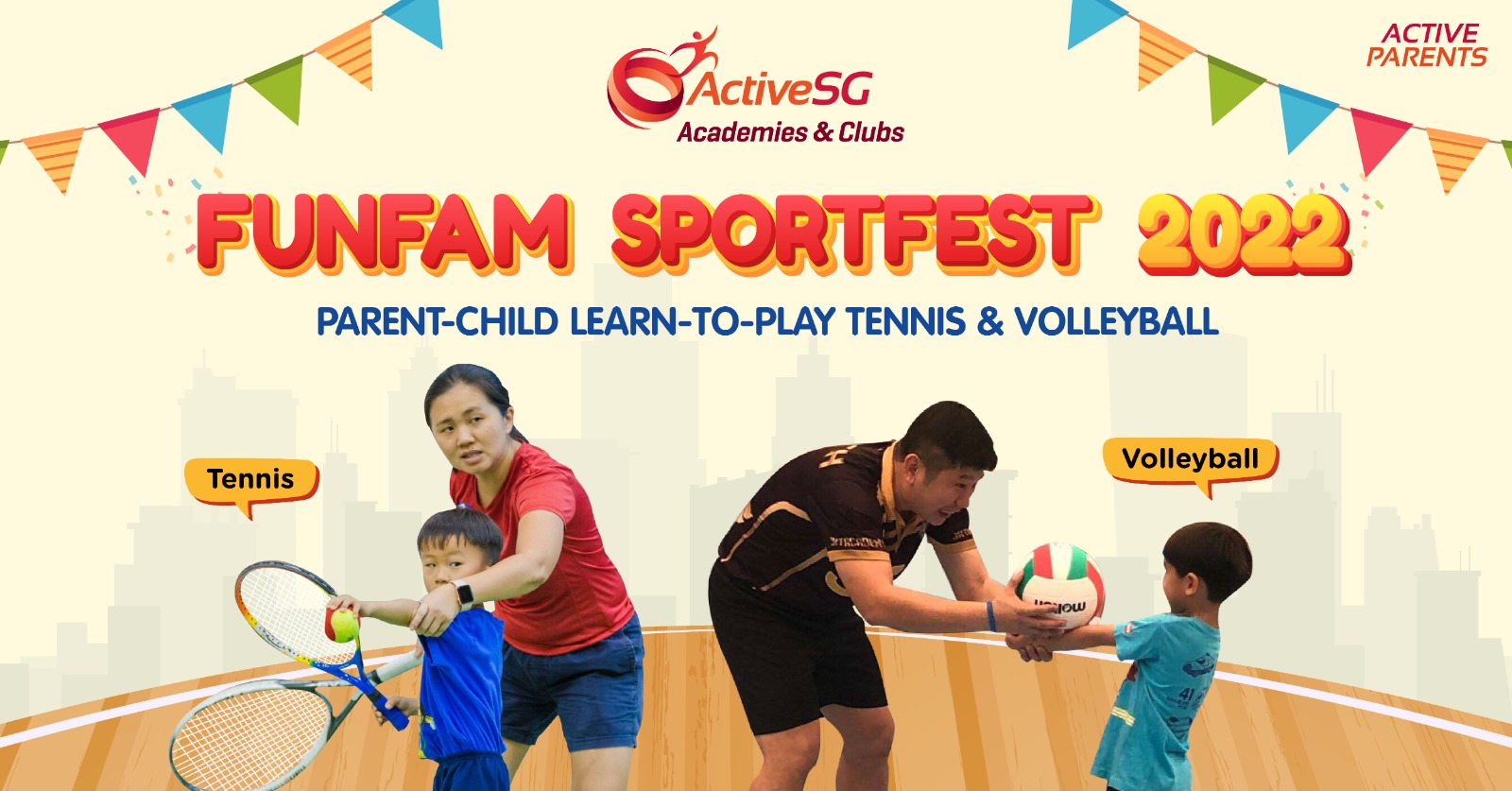 Always wanted to experience playing on court with your child but never had the opportunity to? These tennis and volleyball parent-child programmes are curated for you!

Conducted by our coaches from ActiveSG Academies and Clubs, the hour-long programme is specially designed for parent-child interaction while learning the sport. Be your child's playmate, coach and cheerleader rolled into one at the programme. Choose from tennis or volleyball and pick a new sport with your child today! 🎾🏐

Limited slots only! Book your spots now.
Note:
🎁 All registered participants of parent-child funtivities will receive an Active Parents gift on the event day.
📌 Registration how-to available here.
---
SPORT TRYOUTS
Suitable for children aged up to 12 years. Simply walk in and learn how to play from our coaches, no registration is required.

Brought to you by the ActiveSG Academies and Clubs, the FREE sport tryouts include Aikido, Canoeing, Floorball, Football, Pencak Silat. Encourage your child to join the variety of FREE sport tryouts happening all day long at the sportfest!
Who knows, your little athlete may just find their new sport passion!
---
...AND MUCH MORE!
Apart from the sport and fitness activities, there will be other experiences such as Active Health's FitFam Challenge, HPB's Family Fun Time, inflatables games and the likes. Our friendly mascots will roam the grounds so be ready to capture the perfect end-year holiday moment with the children. There will also be plenty of family challenges to perhaps test your wits or agility - show us what you got and stand to win prizes!
Need we say anything more? It's a full day of activities for the family to bond through sport at the FunFam SportFest 2022. Save the date and we will see you on 17 Dec! 😉
---
REGISTRATION
Registration for Parent-Child Funtivities is on a first-come, first-served basis on the ActiveSG mobile app/website.
HOW TO REGISTER
1) Log in to your child's account on the ActiveSG mobile app or website
2) Search for keyword 'Active Parents' under the Programmes tab on the app or programmes search page
3) Register for your desired time slot
PROGRAMME FEE
* If you and your children are Singapore Citizens or Permanent Residents, sign up as ActiveSG members. Upon membership verification, you will get to enjoy exclusive members' rates and benefits, and use your ActiveSG dollars to offset the payment (up to 30%) for the programmes. To verify your child's supplementary account, bring along your child's Student Pass/Birth Certificate to any of our Sport Centres. Click here for the step-by-step guide.
---
CONDITIONS OF ENTRY
👉 Each registration for My 1st Coach, Dance Fitness Party and Parent-Child Learn-to-Play sport programmes allows participation of one parent and one child.

👉 Admission to the general event with complimentary activities is free for all.

👉 Come dressed in sporting attire i.e. exercise top and bottoms, sports shoes to participate in the physical activities.

👉 Attendees will go through Sports Hub's bag check process. No F&B allowed in the event venue except for personal water bottles. You may pre-fill your water bottles before entering the event venue. There will also be refill points at Hall 2 and outside Hall 3.

👉 Strollers, bicycles, skateboards, scooters and similar items are not allowed into the event venue. You may deposit your stroller outside the halls.
FREQUENTLY ASKED QUESTIONS (FAQs)
Read the Active Parents School Holiday Programme FAQs here.
If you have any further queries, please reach out to activeparents@sport.gov.sg.