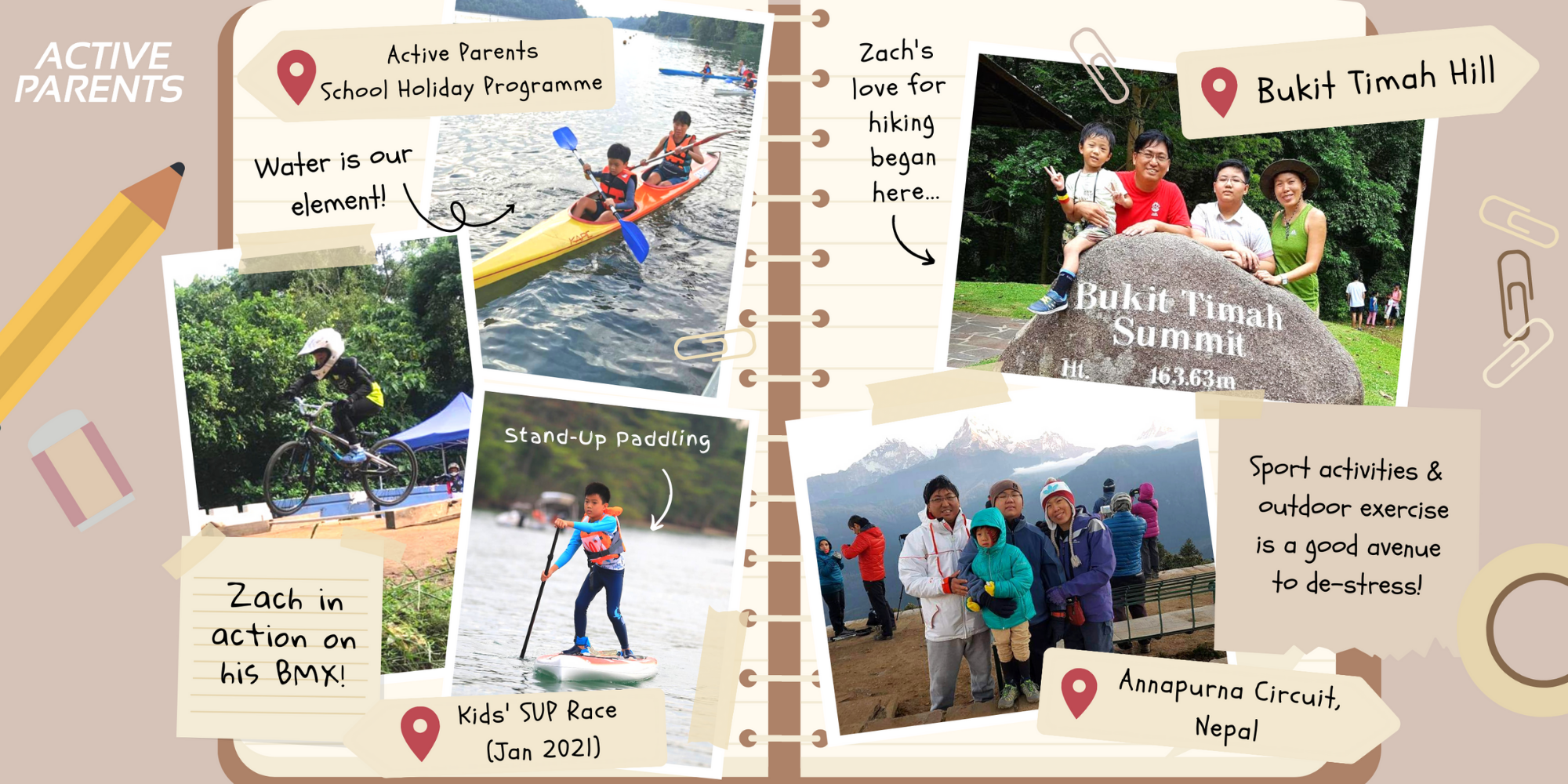 "We always believe in doing things together as a family, and sport is no exception as it provides the perfect environment to bond. Water is our element, and during the December holidays last year, we jumped at the opportunity to kayak in the pristine waters of MacRitchie Reservoir as part of the Active Parents School Holiday Programme. The best learning moment is when the child is the one actually steering the 2-man kayak by controlling the rudder with his feet, while the parent is seated behind. The child is empowered to chart his/her own way forward, instead of the adult being the one leading the way. My son, Zach, and I also learnt the importance of teamwork, as we both had to synchronise our paddling, and work as a pair to climb back into the cockpit after having capsized!
The last time that we paddled in MacRitchie Reservoir was in Aug 2019 when Zach and I took part in the Pesta Sukan (Festival of Sports) Stand-Up Paddle (SUP) event, under the Parent-and-Child category. We learnt to do SUP as a family, and since then, Zach has even taken part in the SCF-SUP's 1st Kids' SUP Race in Jan 2021.
F.A.I.L - Fall And I Learn. That's the quip that I always give Zach when encouraging him to learn something new – that it's perfectly okay to fail as part of the learning process. From the time that Zach learnt to walk on his own, he started traversing the slopes of Bukit Timah Hill, before hiking in New Zealand (aged 2.5), Hong Kong (aged 3.5) and the Himalayan mountain ranges (aged 4.5). On his 6th birthday he embarked on the Everest Base camp trail to see Mount Everest.
On top of hiking, Zach also started learning bicycle motocross (BMX) with the Singapore Cycling Federation. It is the sport of racing specially built bicycles on a rough, cross-country course with constructed obstacles around. Even though he fell a lot during the initial stages, encouraging our children to pick themselves up and keep going is the perfect training ground for courage and resilience. While Zach is having his 2-hour trainings, I take the chance to cycle and explore the Rail Corridor and other park connectors in the Central Catchment Area too.
As an Active Parent, I try my best to let my children experience as many sport as they can. Other than sport being an avenue to de-stress and develop fundamental movement skills from learning multiple sport, it also provides the fertile ground to seed life-skills like resilience and adaptability, which cannot be gleaned from the textbooks nor tuition centres."