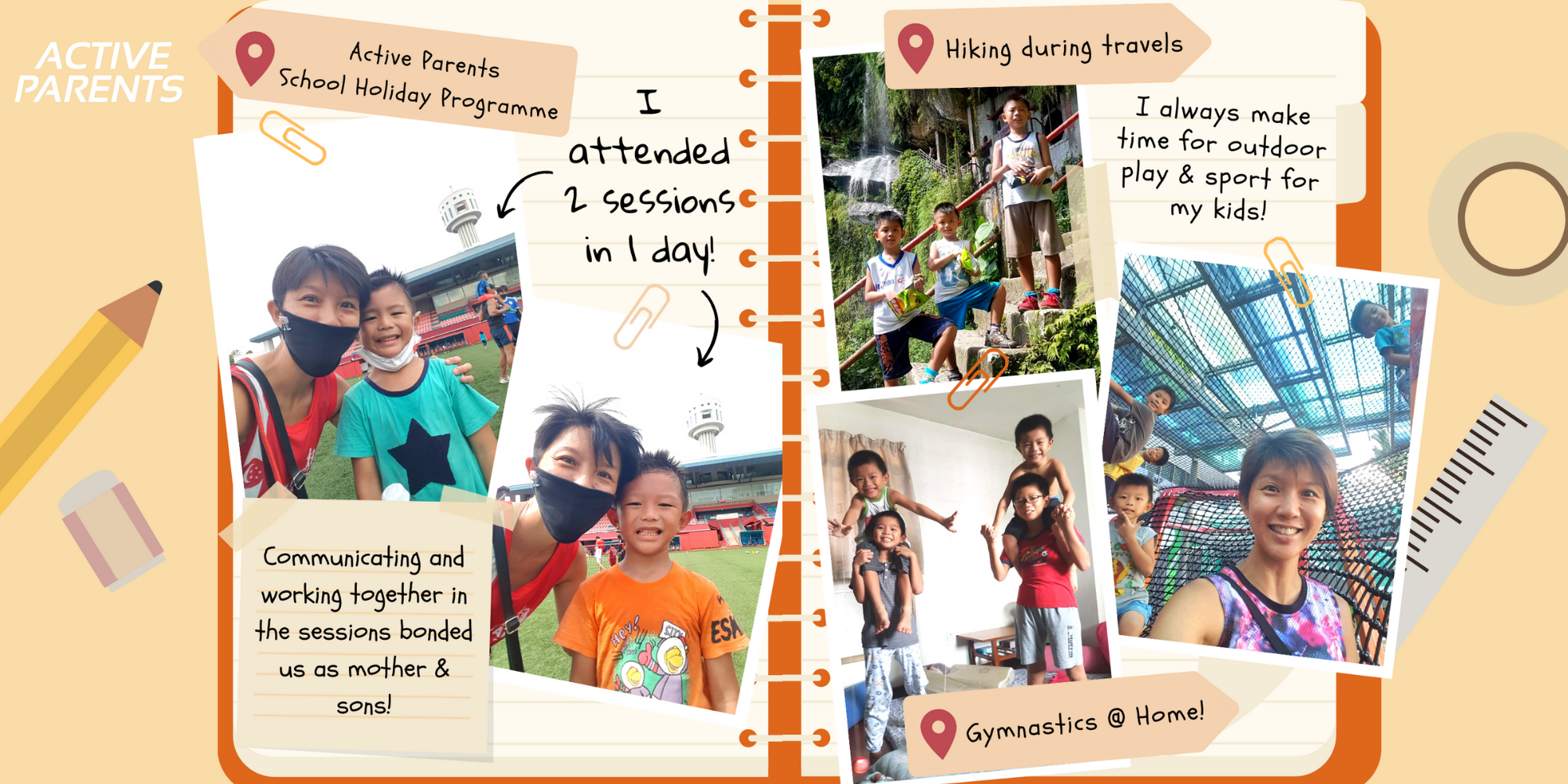 "My son and I participated in the Athletics session last December as part of the Active Parents School Holiday Programme. I personally took part in two sessions on the same day – one each with two of my sons. My children and I found that the main highlight of these sessions for us was the element of partnering and strategising together as a parent-child team. I believe that it was the communicating and working together towards a common goal that allowed me the opportunity to further bond with my children.
To me, being an Active Parent is to lead by example by staying active myself, while also participating in aerobic activities together with my children as much as possible. While my children are training at the ActiveSG Football Academy, I will either go swimming or jogging at the nearby stadium. I strongly believe that outdoor play and sport are important for my children to balance academic stress. It frees their mind from academics and empowers them to focus better afterwards.
My family and I enjoy playing badminton, soccer and frisbee together during the weekends. When the weather is good, I will make it a point to bring my children to the playground or an open area for 1 - 2hrs of outdoor play. Whenever we travelled overseas as a family, I would also definitely include hiking, nature walks or playgrounds in our itinerary. However, it is no doubt quite challenging to include outdoor play in our weekday schedule. But one thing we do as a family is that we all make an effort to wake up slightly earlier on weekday mornings so that we can walk to school together. My children will then walk home from school too. After completing their schoolwork, they will occasionally start a Nerf war or play hide-n-seek at home. They usually end up breaking a lot of stuff, especially during the Circuit Breaker period.
Diet is another important element of a healthy lifestyle. As we stay active, the need to drink more water will come naturally. I also make sure to provide my children with at least two servings of fruits daily, and I try to adhere to the food pyramid when it comes to planning their meals too!"