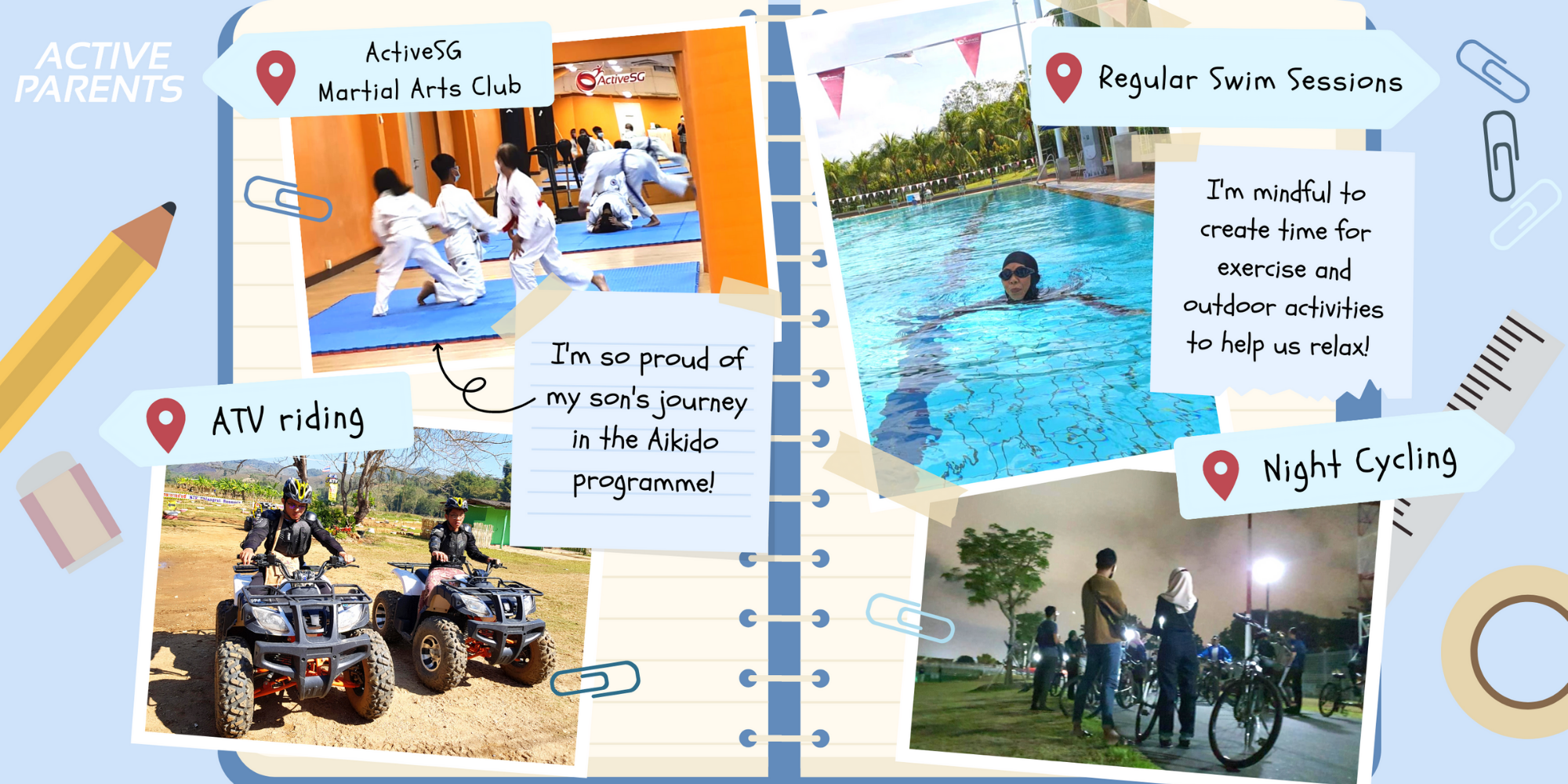 "My son is currently enrolled in the ActiveSG Martial Arts Club. He first developed an interest in Aikido when I signed him up for the Aikido demonstration session. He really enjoys his time in these sessions and particularly likes the defensive aspect of Aikido. Before the COVID-19 safety restrictions, I was able to sit in for his classes and support him throughout the session. I try to be actively engaged in the session as a parent by taking photos or filming videos of my son at training and sending it to the family group chat to encourage his Aikido progress. At times, I do take part in the warm-up activity too! My proudest and fondest memory was the time I was able to see him perform for his 2nd grading at Heartbeat@Bedok Sport Centre.
As a family, we enjoy water sport and outdoor activities in general. Before COVID-19, we would organise an annual short trip to one of our neighbouring countries to explore the beauty of nature while engaging in various sport to cater to both the adults and children in my family. A highlight of one of our trips to Malaysia was the time when we all went snorkelling off Pulau Perhentian together. Another favourite moment for my boys was when they got the chance to ride an ATV.
I believe that sport/outdoor play is definitely important for the child's holistic wellness. Since my son was a baby, we would always make it a point to bring him out to the parks and beaches during the weekends. During the school holidays, he would play and run around at the playground practically every day! I particularly enjoy night cycling, brisk walking, hiking, and kayaking. I also took part in the brisk walk programme conducted by our residents' committee with my family. It is important that we help one another to de-stress from the daily busy schedule of working and studying. Being mindful to create time for each of us to exercise and relax will help to keep our mind and body active and healthy.
To me, being an Active Parent means making the effort to be active together with my children. One great way to do so is to take part in sport activities together with them. At times, I believe it is necessary to take persuasive actions to strongly encourage your child to go outdoors instead of just sitting at home and spending time on their digital devices (e.g., handphones)."