Written by Gary Yang
Sai Yunyun, 37, is a stay-at-home mum and proud parent to Ander, 6 and Asher, 3 but guess what? She used to play basketball regularly and even represented her school! To her, it was not so much about competitions and winning trophies, but more about learning new skills and making friends.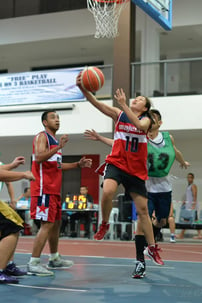 Now that she is a parent, she naturally introduced and exposed her kids to the game of basketball.
Yunyun enthused: "Daddy and Mummy loves basketball! We brought the children to watch their Dad in action almost every game. They really love that orange ball! You will find them playing with it whenever they are at the basketball court."
But what if her kids didn't enjoy, or gasp, disliked basketball? Yunyun takes that in her stride and believes in following the kids' leads and will groom them to their best ability should they find interest in other sports.
Both Ander and Asher are part of the ActiveSG Basketball Academy and Yunyun and her husband make it a point to be present and follow up with their own private practice sessions after.
"Daddy and Mummy take turns to be present and would follow up by practising the drills that were taught during training. We committed ourselves to spend time with the children because they grow up so fast! We do not want to miss out witnessing what they can achieve in life," she shared.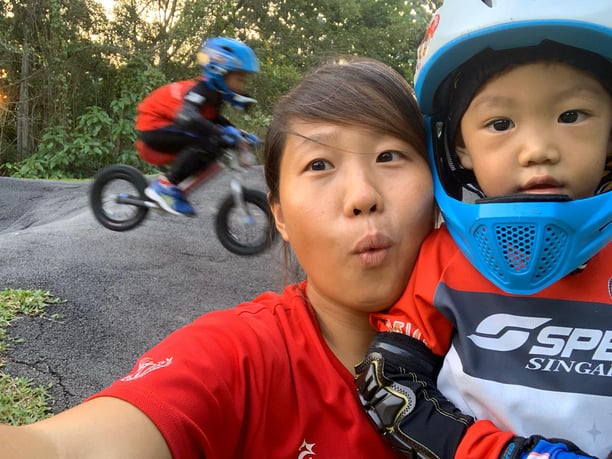 Besides basketball, Yunyun and her family are also into other sports and activities. The boys are currently racers on balance bikes. They have participated in races locally and in Malaysia, Thailand, China, Taiwan and Vietnam. The family spend about two to three times a week doing drills alone or with other children. Yunyun also brings them for competition almost every other week (pre COVID-19). They also love exploring the nature parks, playgrounds, visiting animals and swimming!
Yunyun feels that sports and exercises are important for children as it teaches them how they could lead an active and healthy lifestyle. Hence, she tries to set an example by being active herself and bringing the kids outdoors!
Mothers are usually the pillar of strength for the entire family and Yunyun feels empowered by that fact: "It is empowering but this is only possible because of the fact that my husband provides for the family. My role is to make sure that the children grow up strong and healthy."
Mother's Day is just around the corner and the family plans to cook together to celebrate the occasion and make use of the opportunity to teach the children some life skills at the same time.
She ended the interview with this shout out for all mothers out there: "Read a new book and find time to do one nice thing for yourself every day! Happy Mummy equals happy children! Happy Mother's Day to each and every one of you!"