To say that parents are every child's first coach and role model in life is hardly an understatement. During our kids' formative years, parents play a crucial role in setting the foundation for development of motor skills, important character and values, and essential life skills.
Through My 1st Coach programme, parents are equipped with knowledge and techniques to achieve the following:
H

elp their kids develop Fundamental Movement Skills (FMS)

C

reate F.U.N Games and D.R.E.A.M big for the whole family

M

ake Healthier Choices for Active Health

I

nfuse Character and Values

B

e a Positive Sporting Role Model
We speak with Grace Lian, mother of two daughters aged four and six, on her experience in 2019's pilot run with the Home of Athletics.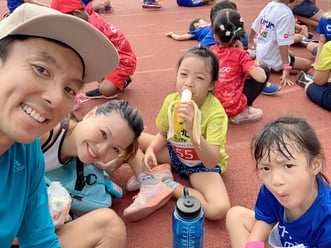 With her two girls participating in ActiveSG's track and field, and her sport-enthusiast husband a part-time tennis coach, Grace herself counts a long sporting history. From high jump and relay running in primary school, track and field in secondary school, touch rugby in college, Grace now plays golf and tennis.
With the couple so passionate about sport since young, do they feel they are the inspiration behind the kids' interest?
"Kids are very visual - they will follow what their parents do. While we don't know if they are particularly interested or not at the start, we want to make sport a natural part of their everyday life."
Beyond keeping fit and developing motor skills, Grace believes that sport teaches children discipline, perseverance, constant improvement, and even learning how to lose.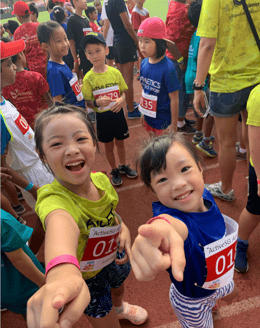 "We always tell them that to win in life, you have to learn to lose first. This will also help them manage disappointment and setback along the way as they grow up. Life's journey is not to just focus on results, but to always try our best and enjoy the process."
With these in mind, Grace decided to participate in the My 1st Coach programme when it piloted in 2019.
"I wanted to reinforce what I know, and learn even more. The course was very informative, and relevant to us parents who are constantly wondering what else to do with our kids. Even for parents who are not particularly sporty or active, basic motor skills are useful for both parents and kids, as we start with simple activities such as throwing and rolling a ball, and running movements."
Additionally, there were insights on the importance of nutrition, proper hydration, and even how to speak positively to children and engaging them in a fun manner – surely important lessons for every parent.
"There are so many benefits for parents and kids who get involved in sport together. I recommended track and field to my friends with kids in similar age groups. I believe it is a good alternative for our children, over being on their mobile devices or watching TV excessively. Spending more time outdoors, instead of getting too accustomed to enjoying air-conditioned indoors, improves their endurance to hot weather. Not to mention better stamina and focus when they engage in other activities."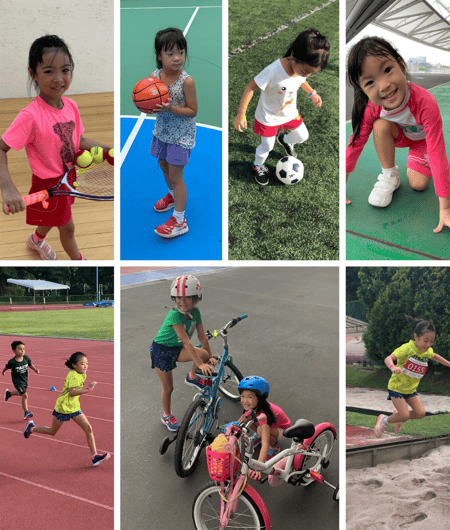 For this family who keeps their weekends active with various sport activities like swimming and tennis, as well as church and gatherings with relatives, Grace feels that family bonding is important and letting the kids know they are loved is what will help them to blossom.
Last but not least, she encourages parents to sign up for My 1st Coach, "especially for those who do not have any knowledge in sport, this will be a good start for them. For those who are active, it is a good refresher as many of us may have lost touch after diving into our busy work or family life. Celebrate our opportunity to not only be a parent, but also our children's first coach in life."
-----
My 1st Coach is all set to launch its new series of interactive, practical sessions in Q4 2020! Stay tuned here for more details.