We speak to three kids who are participants of ActiveSG sport academies. Find out how they ignited their respective interest in soccer, hockey and basketball.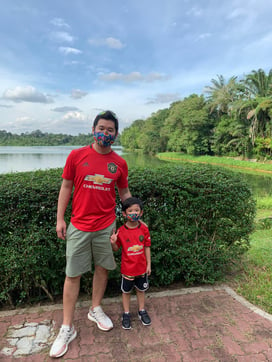 For four-year-old Aden Lee, having a dad who loves soccer has gotten him signed on at the ActiveSG Football Academy's pre-school group. If you think children this age may not know how to appreciate the sport, Aden for sure knows football time is time to see his best friend, who is also in the academy. And why not, given that socialising is just as crucial for kids.
Football training serves another purpose – his parents see it as an avenue for Aden to develop critical psychomotor skills. The outgoing and sociable boy prefers to be outdoors, to which he says, "I like playing on my scooter, swimming and football." – the last he participates at the reopened academy after Circuit Breaker.
The resumed training is more than welcomed, as Aden's parents have seen positive changes in Aden, such as improved concentration, and being responsive to "rewards" for good behaviour, including play time outdoors and with his best friend. Coaches are able to connect with the children, engaging and encouraging them, while guiding them to listen to instructions for group play.
On what he does to ensure safe play, Aden says his parents remind him not to keep touching his face, and to listen to the coaches' instructions. His parents added "The academy has safety measures duly in place, such as temperature screening and keeping groups no more than five participants. We are not overly concerned about measures put in place for public hygiene during training."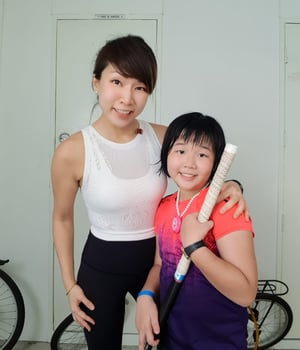 Nine-year-old Natalie Joy Ho knows what she enjoys doing, and is not afraid to try new activities. She says "I have tried badminton, yo-yo, and even auditioned for my school choir." Nonetheless, the sport that has captivated her the most is hockey, first as a CCA as her school strengthens the girls' team, before subsequently joining ActiveSG Hockey Academy.
It would not be an exaggeration to guess that Natalie got her sporty genes from her mom, who was a discus thrower back in her own school's' track and field days. Believing that team sport can impart important values such as team work, being respectful to coaches and sportsmanship to children, mom strongly encourages Natalie and her brother to try and learn new things, even rough sports; and moderates screen time to allow her children sufficient time outdoors and to get used to sweating it out. The family also includes outdoor activities on vacations, such as cycling and hiking, something they hope to resume when travel restrictions are eventually lifted.
Natalie for sure enjoys being outdoors and at the academy. "Having to stay home during Circuit Breaker was frustrating. I have less activities to do, even though we play floorball and try HIIT workout videos as a family."

Applauding the national initiative to making sports affordable for everyone, Natalie's mom looks forward to even more locations for sport academies and clubs. Attending hockey training at least once a week, the academy has more than assured Natalie and her parents, when it comes to offering participants a safe environment for play.
"Other than a well-structured programme to keep to recommended group size, there is a Whatsapp chat group for parents of participants. Before training sessions, we are constantly reminded about
safety measures, even going down to details such as labelling water bottles, diligent sanitising and more. I feel the academy is way more prudent and meticulous than us parents," noted Natalie's mom.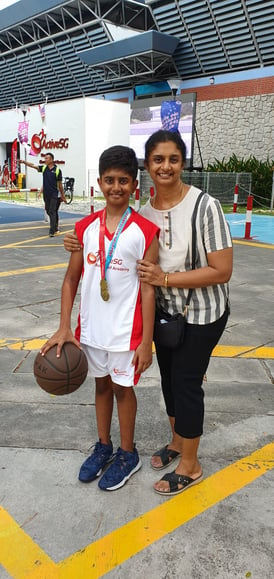 11-year-old M. Nideesh Raaghav is not one to let up on his fitness and basketball regime, even during Circuit Breaker. Raaghav makes time to jog, among other workouts, covering as far as 4km daily.
His dedication to basketball is commendable. While his primary school does not offer the sport as a CCA, it has done nothing to stop him from training as frequently as four times a week, including at the reopened ActiveSG Basketball Academy. Aspiring to join the national team one day – though his parents just want him to enjoy the sport without pressure – they would be prioritising his choice of secondary school as one which offers basketball as a CCA.
Raaghav's passion in basketball was after a journey of trying out Taekwondo, badminton, swimming and track and field, all of which did not last as long as his current love. Even his parents can see his determination and changes.

Raaghav says, "I enjoy basketball very much as it helps me relieve stress from and improves my concentration on my school work. I also feel more self-disciplined and resilient to challenges, and value the chance to learn about teamwork and sportsmanship. Our academy is mindful about group size and limiting physical contact during this period, so we do more of personal conditioning training. On my own, I remember to wash and sanitise my hands, so my parents and I are not worried about my increased exercise out of home."
---
If you have been anticipating the reopening of ActiveSG academies and clubs, or want to check out what is available, click here. Measures are also well in place, to facilitate a safe return to sport, physical activity and activity.