Parenting trends have changed by leaps and bounds in the past few decades. Gender roles have been shifting, with women at work being more common than ever before, and more men turning stay-home dads.
While most men may not be pursuing this "career change", it is without doubt that men in tow with their kids in public have become fashionable -imagine pram-pushing and baby-carrier dads! The younger generation of fathers are more inclined to be involved when their children are growing up.
ActiveSG celebrates fatherhood, with whom we feel are really cool sporty dads!
David Beckham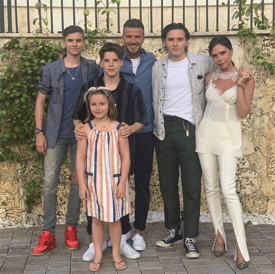 Possibly the must-have name on every cool celeb dads list. The soccer superstar and spouse of just-as-famous fashionista Victoria "Posh Spice" Beckham have four kids since they got hitched in 1999. Besides sharing their family life galore on social media, Beckham launched the David Beckham 7 Fund with UNICEF, providing aid to kids in Indonesia, Nepal, Uganda, and El Salvador, against child marriage, violence, and bullying. This cool dad not only showers love on his own, but also uses his influence to help children in other parts of the world.
Photo credits: Instagram
LeBron James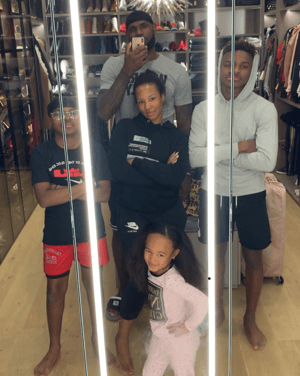 Being one of the greatest basketball players in the world is but part of LeBron's multi-faceted portfolio, as a Hollywood producer, leading philanthropist, and of course, one of the most visible American dads.
With his eldest child taking after his passion in basketball, dad LeBron makes time to show support at the junior's games. Having been brought up by a single mother, the absence of a father in his childhood has done nothing to dent his effort in being the best father possible.
Photo credits: Instagram
Dwayne "The Rock" Johnson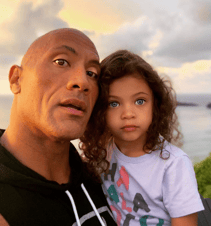 The WWE-turned-movie star is approaching 50 and spares no effort sharing his life as dad to three precious daughters. Known to be absolutely winning to do anything for them, he even dressed up as Pikachu and danced for his daughter Jasmine's first Halloween. Definitely a go-all-out dad whose manly image has not at all been compromised.
Photo credits: Instagram
And Singapore's own…
Fandi Ahmad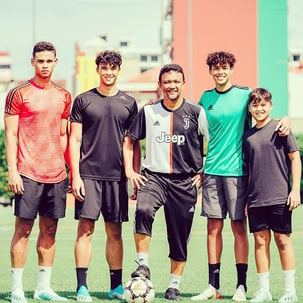 Possibly Singapore's version of David Beckham. The football legend, spouse of South African model Wendy Jacobs and father of five has stayed an active contributor to the local sports scene through the years, including initiatives to get kids involved in sports. His two eldest sons are promising professional footballers themselves, no doubt inspired by their dad. The celebrity family is known to be down-to-earth, with Fandi Ahmad instilling in his children the need to always be humble and respect teachers, coaches and elders.
Photo credits: Instagram
Lim Tong Hai
Another football veteran who continues to dedicate to the local sports scene, Lim Tong Hai is dad to two, including national swimmer Jade Lim. Part of Dads for Life's soccer team, Lim believes in getting kids engaged in sports, for them to leave the comfort of their homes, and interact with peers of different teams and nationalities.
Aleksandar Duric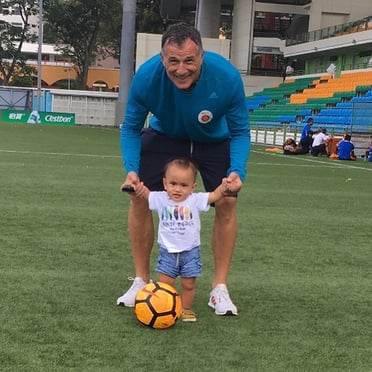 The former Singapore international striker hails from Yugoslavia and started his career in Singapore since 2000. Just like the two local veterans mentioned above, the fitness freak reportedly runs 15km every day. He has three children, one of whom is an adopted Muslim child. Duric also dedicates time to charity work, such as volunteering at a children's home.
Photo credits: Instagram
Vivian Rhamanan
National squash player and co-founder of the Singapore Squash Academy, Vivian is dad to two kids – son Travis (who apparently picked up a squash racket when he started walking at one!) and daughter Tia. Here is a hands-on dad who changes his kids' nappies and does feeding duty. Not only that, he even taught kids from his neighbourhood how to play squash, right at a void deck.
Baihakki Khaizan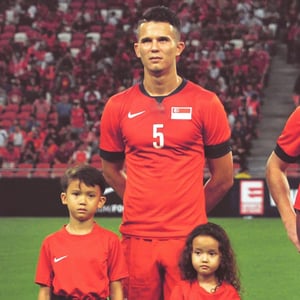 The professional footballer and former captain of Young Lions is married to ex-actress and singer Norfasarie. The couple has three kids, including their second child - baby girl Moza who was born with a right arm that ended at her elbow. The couple stays committed in loving and taking care of their little princess.
Photo credits: Instagram
Allan Wu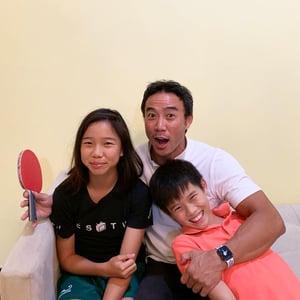 The fitness junkie, who works hard to look young and good for his age, is a devoted dad to two teenagers – an elder daughter and younger son. The busy jet-setting dad makes time to interact and stay connected with his kids, even when he is away. Back in Singapore, he takes them outdoors to stay active, going running, playing basketball and swimming. This is one dad who enjoys watching his children growing up, and is thankful to them for motivating him to be a better person and teaching him "the true meaning of unconditional love".
Photo credits: Instagram
Related reading: